Forum | Calendar | Counselors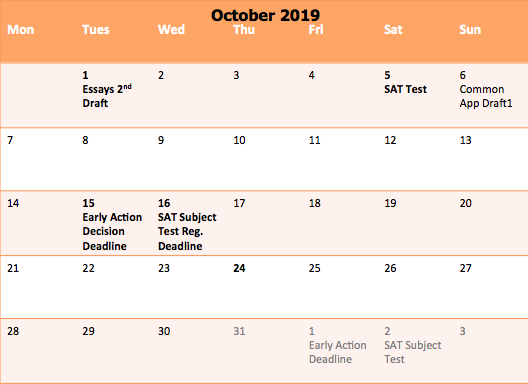 Subscribe to College Applications Calendar
The calendar marches on. October is upon us. It is a critical month because there are a few key deadlines on the horizon including SAT Test and Early Applications.
Here are some resources from our site to help you with the biggies. If you have a question, just go to the Forum and Ask.
SAT Test on Oct 5, 2019. Hope you are in the final run of the practice tests. Good Luck!
Decision about Applying Early
Essay Draft
Common Application

If you need any help or clarification visit our Forum. It has students from the Top US Colleges who were in your shoes just a year or two ago. They are happy to help.
In addition, services of US-based College Counselors are available. Signup to find out more.